The IEP process – building true collaboration
This section looks at:
Diagram of the IEP process
Like all curriculum design in New Zealand, the IEP process is "a continuous, cyclic process"
(The New Zealand Curriculum, page 37).
It brings together a team of people closely involved with the student to collaboratively plan a programme to meet the student's needs. The diagram below visualises this process.
IEP team meetings
IEP team meetings form only a small part of the IEP process, taking place especially at the "Meet and set goals" stage of the diagram. Before meetings, members of the team have been gathering assessment and monitoring information. (See Assessment - what, who, and how)
Deciding on team processes
At the first IEP meeting, the IEP team decides on team processes, including:
Setting the IEP vision and purpose
At the start of the collaborative planning process, the team (including the student if possible) needs to agree on the IEP's vision and primary purpose. The purpose might be classroom programme extension, alternative education, or transition into or out of a classroom or school.
Setting the IEP goals
The IEP team then sets goals to support the overall purpose. The IEP team needs to:
identify the student's current strengths and successes across various settings
identify and agree on a few clear, achievable, measurable goals that build on current strengths and reflect next learning steps (to a maximum of four or five goals – even having one priority goal is fine)
identify a few success criteria for each goal that show what success might look like
identify opportunities for the student to engage with new ideas and practise new learning through various tasks and settings
initiate ongoing planning to support the achievement of goals, for example, adaptations and differentiations. (See Adaptations and Differentiations…)
Focus questions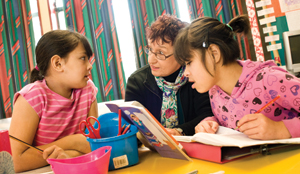 Asking questions, such as those below, can help guide the process of setting goals and deciding how best to meet the student's needs.
What is important and therefore worth spending time on?
In what ways can the classroom programme meet the student's educational needs and enrich their classroom, school, and community experiences (for example, by supporting them to make friends)?
What adaptations are necessary to the classroom or school environment? (See Adaptations and Differentiations…)
What attitudes do we need to foster in adults and peers to support the student?
What skills or knowledge do team members need to develop?
Who is going to do what?
Adaptations and differentiations to the school and classroom curriculum
The 2010 literature review summarises what are sometimes called "adaptations and differentiations" to make the curriculum more accessible (Mitchell et al., 2010, pages 64–65).
Adaptations are changes to the school and classroom environment, teaching and learning materials, and associated teaching strategies. These changes support students to access and respond to the school and classroom curriculum.
Differentiations are changes to the content of the school and classroom curriculum and expected responses to it. These changes support students to experience success. Possible changes are grouped below under the headings of content, teaching and learning materials, and responses expected for students. You will need to discuss such changes in your planning meetings (see IEP team meetings), and they are likely to feature in the IEP (see Contents of the IEP).
Content
Leave out very complex content or present it in a simpler way.
Reduce the size or breadth of the school and classroom curriculum.
Use the same activity but include IEP objectives.
Overlap learning areas to help students grasp the connections between them.
Include activities that reflect the student's preferences.
Teaching and learning materials
Present content in different ways by substituting or modifying regular teaching materials.
Provide written and visual equivalents of spoken material (for example, sign language, speech-totext software, transcripts or captions for videos, diagrams and charts).
Provide spoken or tactile equivalents of written or visual material (for example, spoken description of visuals, text-to-speech software, Braille, threedimensional objects, tactile graphics).
Provide materials such as adapted computer keyboards or alternatives to a keyboard and mouse (for example, switch access with corresponding software).
Use interactive web tools and social media (for example, interactive comic strips or animations, discussion forums, chats).
Responses expected for students
Allow more time to interact with and respond to learning materials and activities.
Provide opportunities for the students to express what they know in multiple ways (for example, through text, speech, movement, illustration, storyboards, video, interaction with web tools).
Contents of the IEP
The IEP first states its long-term vision and purpose. (See Setting the IEP vision and purpose) To support that purpose, it needs to clearly cover all the areas below.
The team agrees on the format of the IEP. The format might be visual (for example, involving photos of successful task or goal completion), written, or both. It should reflect the IEP's primary purpose.
Team communication, roles, and needs
Record how the team have agreed to communicate.
Show team agreement about roles and responsibilities in developing and implementing the IEP.
Identify the needs of team members – that is, what skills, knowledge, or attitudes they need to support the student and one another.
Classroom programme
Record which learning and teaching needs will be met by the classroom programme.
Note agreed priorities for the student's learning within the classroom programme, including strengths, goals and associated success criteria, and opportunities for practice. (See "Setting the IEP goals" under IEP team meetings)
Identify any exceptional learning or teaching needs and how these needs will be met. (See Adaptations and Differentiations…)
Specialist supports and technology
Link specialist supports to the classroom programme, including strategies and resources (for example, assistive technology).
Review assistive technologies that the student currently uses to achieve their learning goals.
Record any additional learning needs in relation to assistive technology.
Assessment and reviews
Implementing the IEP
After the initial planning meeting, those directly responsible for implementing the IEP determine how to weave it into class, school, and community programmes. (These people may vary depending on the learning context.) They add relevant decisions and details to the IEP.
Between meetings, less formal, collaborative conversations between team members take place to fine-tune the teaching strategies. Detailed notes may be needed to guide day-to-day delivery of the IEP, including assessment (see Assessment – what, who, and how).
Reviewing and reporting on the IEP and planning process
In New Zealand, no policy exists on how often the IEP and collaborative planning process should be monitored or reviewed. The participants in the process agree on when to review the IEP.
The IEP must become a "living" document that clearly reflects each student's changing needs. The diagram of the IEP process reflects this expectation.
Team members gather assessment information (see Assessment – what, who, and how) before meeting to review the IEP. They summarise this information in the IEP. The questions they need to consider include:
Have the IEP goals been met?
Have the agreed adaptations and differentiations (for example, assistive technology) effectively supported the student to access the class, school, or community programme?
Have team processes supported the IEP outcomes?
School reporting on student progress
The IEP process informs but does not replace school reporting on student progress to parents/caregivers and whānau. For students with special education needs, as for all students, schools are obliged to work with their community to develop reporting policies and practices.