Collaboration - the heart of the matter
IEP team members
The 2010 literature review concluded that all those involved with the student's learning should be part of IEP development and implementation. Team members might include:
the student – who is at the heart of the IEP team
their parents/caregivers and members of their whānau, hapū, iwi, or other communities
school staff, including teachers, teacher aides, and school leaders
specialists.
"There is extensive evidence for the effectiveness of active parent involvement in improving children's academic and social outcomes … To the maximum extent possible, students should be involved in developing their own IEPs."
Mitchell et al. (2010(, page 56.
"For learners to succeed, the school, the home, the hapū, iwi, and community must work together constantly."
Te Marautanga o Aotearoa (2008), page 2 (online English version), page 5 (online te reo version)
Team size
When deciding who should be involved in the team, teachers need to consider the impact of group size on people's ability to participate.
Too large a group can prevent effective input and collaboration. Too small a group can result in too narrow a view.
Remember: It's a balancing act.
The power of collaboration - and what it depends on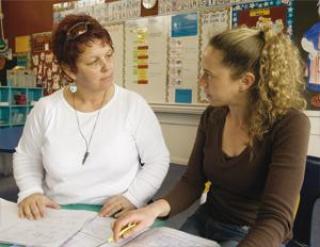 Successful collaboration depends on factors such as:
setting clear goals
defining respective roles 
accepting joint-responsibility for decisions and their outcomes
taking a problem-solving approach
establishing mutual trust and respect for one another's ideas and expertise
being willing to learn from others
aiming for consensus decision making
giving and receiving feedback in an open, non-judgmental way
developing procedures for resolving conflicts.
"Collaborative problem-solving and decision-making focused on teaching and learning for students with disabilities have the potential to create fundamental change in the ways that teachers teach and students learn."
Mitchell et al. (2010), page 24
Facilitating collaboration
Partnerships and collaboration do not just happen. The literature review includes ideas for facilitating collaboration, including those below.
Learn the student's background and maintain effective relationships with their community beyond the IEP process (for example, through home visits or regular meetings).
Liaise with the student, parents/caregivers, whānau, and other relevant community members on where, when, and how the IEP should be developed.
Organise meetings or hui somewhere other than at school (for example, marae, community centre, home) to discuss and develop the IEP.
Before IEP meetings, provide participants with relevant, helpful information (including question starters). Use appropriate technology to distribute it.
Ensure that meeting times work around other commitments of team members.
Help with childcare and transport to meetings if necessary.
Provide necessary training to team members (for example, around the IEP process, participation skills, or the student's cultural background).
Involve a meeting or hui facilitator, who might not be part of the IEP team.
Use jargon-free communication and the student's home language as much as possible. Involve interpreters when necessary.
Collaborating with Māori communities
Community collaboration is a fundamental concept to Māori. Partnerships with Māori communities – including whānau, hapū, and iwi – are often successful when schools have an awareness of the tikanga around collaboration and help community members feel safe to participate.
Research into whānau views around special education revealed that "where services and schools have this awareness [of tikanga] … whānau are unanimously positive and appreciative" (Wilkie, Berryman, Himoana, et al., 2001, page 180).
The same research found that "where due regard for the Treaty [of Waitangi] and the principles is in evidence, whānau can access and appreciate the resources and services to support them with their special needs children" (page 179). Several whānau thought that schools and other services should "link Māori whānau … with other local whānau experiencing the same or similar special needs. In this way, their concerns could be shared" (page 180).
Following the principles of the Treaty of Waitangi
The literature review discussed possible use of the Te Pikinga ki Runga framework in IEP development.
"The framework is based on the three principles of the Treaty of Waitangi: partnership, protection, and participation. In particular, there is a need to pay close attention to the unequal power relationships that can exist in any partnership … Protection speaks to the importance of both protecting and 'enhancing student self-concept and cultural identity' … Participation speaks to the importance of presence and being seen as a valued member of the classroom and learning community."
Mitchell et al. (2010), page 35
Collaborating with Pasifika communities
The literature review notes "the importance of acknowledging the cultural capital of Pasifika students and their families in the school setting" (Mitchell et al., 2010, page 36). Doing so may entail significant learning on the part of other IEP team members.
"Pasifika people have multiple world views and diverse cultural identities" (Pasifika Education Plan, 2009), including their own frameworks for collaboration.
Schools need to identify and collaborate with the leaders of the specific island nations from which their students come. As is the case with Māori communities, working with parents alone is not enough. These individuals are likely to feel isolated without the support of their community.
The literature review notes that the face-to-face talanoa method is a possible framework for collaboration.
This Tongan method "uses traditional Pasifika values and rituals important to maintaining relationships and communication" (Mitchell et al., 2010, page 36). The Cook Islands tīvaevae model is another example.
The role of the teacher
On the role of teachers, the literature review states: Teachers represent the largest and most knowledgeable resource in programming for the needs of students. The quality of their relationship with parents/carers and community agencies plays a large part in the overall outcomes for students. Mitchell et al., 2010, page 36
How team members might participate in the IEP process

How team members participate in the IEP process will vary from one teaching and learning situation to another.
For example:
a classmate might suggest ideas for including the student at school or might support their friend at IEP meetings
parents/caregivers and their communities could have well-established strategies for communicating with and supporting their child, which they could share with others
a physiotherapist might identify physical adaptations to the classroom to give the student improved access to learning experiences
a teacher aide might keep observational data
a specialist teacher could teach specific learning tasks within the classroom.